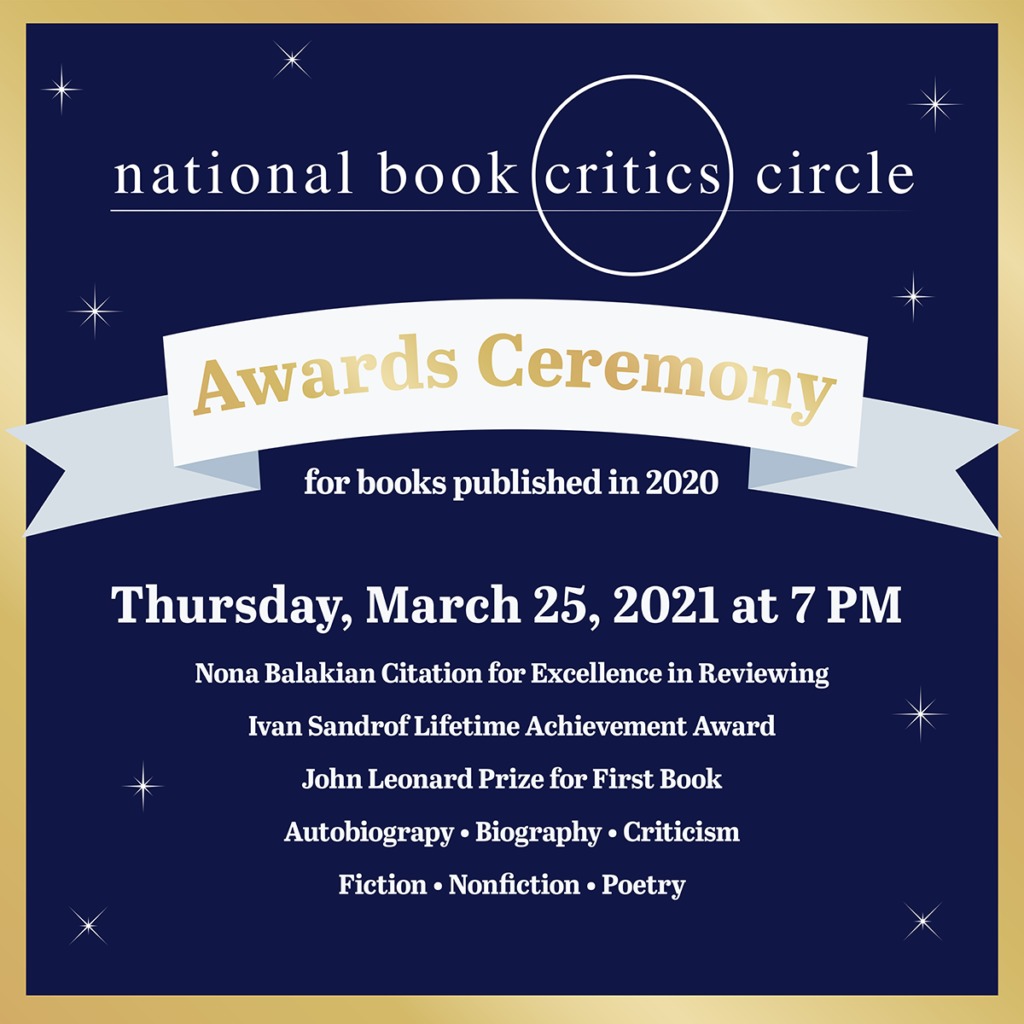 Thanks so much to all of you who joined us last night at our virtual ceremony honoring the winners of the 2019 NBCC Awards and announcing the finalists for the 2020 NBCC Awards! If you missed it, you can find a link to the broadcast here, and you can read a full list of the 2020 finalists here. We hope you'll join us on March 25 at 7 p.m. EST for our 2020 awards ceremony!
Member Reviews/Essays
Paula L. Woods reviewed Ashley Audrain's The Push for the Los Angeles Times.
Ilana Masad reviewed Nadia Owusu's Aftershocks and Tyler Stovall's White Freedom: The Racial History of an Idea for NPR.
Naomi Jackson reviewed Ladee Hubbard's The Rib King for The Washington Post.
S. Kirk Walsh wrote an essay about E.L. Doctorow for The New York Times Book Review.
Hamilton Cain reviewed Mariana Enríquez's The Dangers of Smoking in Bed for O, the Oprah Magazine.
NBCC Vice President/Secretary Colette Bancroft reviewed Ben Montgomery's A Shot in the Moonlight for the Tampa Bay Times.
Laurie Stone reviewed Vivian Gornick's Unfinished Business: Notes of a Chronic Re-reader for the Women's Review of Books.
Robert Allen Papinchak's essay/review of George Saunders's A Swim in a Pond in the Rain appeared in the Los Angeles Review of Books.
Oline H. Cogdill reviewed A Crooked Tree by Una Mannion for the Sun Sentinel and other publications.
Jon Michaud reviewed Kevin Barry's That Old Country Music for The Washington Post.
NBCC Vice President/Online Michael Schaub reviewed The Uncollected Stories of Allan Gurganus for NPR.
Lisa Russ Spaar wrote about two translations of Giovanni Pascoli for the Los Angeles Review of Books.
Former NBCC board member Mark Athitakis reviewed Gina Apostol's novel The Revolution According to Raymundo Mata for On the Seawall and David Stuart MacLean's novel How I Learned to Hate in Ohio for the Star Tribune.
Nicole Graev Lipson reviewed Koa Beck's White Feminism for The Boston Globe.
Dana Wilde reviewed Why I Don't Write by Susan Minot and Cow Palace by Anne Britting Oleson in his Off Radar column for the Central Maine newspapers.
Jim Schley reviewed Vermont Almanac, Volume 1 for Seven Days.
Kitty Kelley reviewed Ty Seidule's Robert E. Lee and Me: A Southerner's Reckoning with the Myth of the Lost Cause for the Washington Independent Review of Books.
Member Interviews
Daneet Steffens interviewed Kevin Barry for the Los Angeles Review of Books.
Martha Anne Toll interviewed Susan Buttenweiser about her new story collection, We Were Lucky With the Rain, for Bloom.
Member News, Etc.
Nathaniel Popkin was interviewed by Jared Jackson of PEN America for the PEN Ten interview series.
Patricia Schultheis's essay "In the Meantime" won the nonfiction award in the Soul-Making competition sponsored by the National League of American Pen Women, Nob Hill Branch, and her short story "Apple, Key, Cross" was published in the winter edition of Letters Journal.
Special Thanks
We'd like to give special thanks to everyone who helped make last night's celebration such a success:
Co-sponsored by The New School Creative Writing Program.
Produced by Wildbound and Jane Ciabattari
Filming by David Varno, Kate Belew, Megan Labrise
Additional graphics by Shannon McKenna
With support from
Amazon Literary Partnership 2020 grant
With collaboration from
Luis Jaramillo and Lori Lynn Turner, The New School Creative Writing Program
Cherilyn Parsons and Scott Gelfand, Bay Area Book Festival
Karen Long, Anisfield-Wolf Book Awards
Steve Wasserman, Heyday Books
Virginia Festival for the Book
With special thanks to Fantastic Negrito, two-time Grammy award winner, for permission to use "I'm So Happy I Cry" from his 2020 Grammy-nominated album, Have You Lost Your Mind Yet.
Credits: "I'm So Happy I Cry" (Featuring Tarriona "Tank" Ball from Tank & The Bangas)
Music and Lyrics written by Fantastic Negrito – verse written by Tank. Songwriter and Producer,Rhythm Guitar, Lead Vocals and Background Vocals (with Tarriona "Tank" Ball), Percussion, Xavier Dphrepaulezz. Lead guitar Masa Kohama. Bass guitar, Cornelius Mims. Hammond B3 organ, Lionel Holoman Jr.Recorded at Blackball Universe.
Photo credits: Marisol Diaz, John Midgley, Beowulf Sheehan