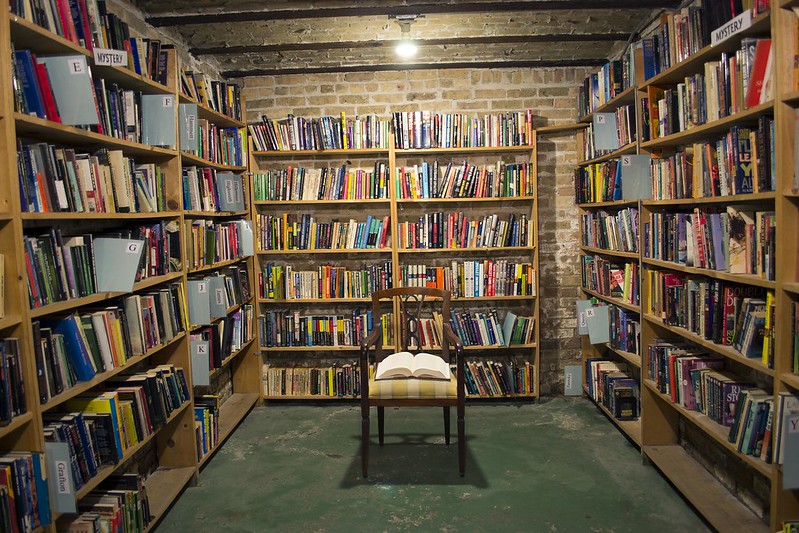 We hope you had a great weekend, filled with rest, relaxation and reading! This past week, our members have reviewed books by Helen Macdonald, Vanessa Veselka, Ali Smith, Yiyun Li and more, and have interviewed authors including Margot Livesey and Tess Taylor. Remember to send us your published work, and please stay cool and safe this summer!
Member Reviews and Essays
Board member Harriet A. Washington reviewed Chip Jones' The Organ Thieves for The New York Times Book Review.
Carolyn Kellogg reviewed Blood on the River by Marjoleine Kars for the Los Angeles Times, and Martha Anne Toll reviewed it for NPR.
Christoph Irmscher reviewed Helen Macdonald's Vesper Flights for The Wall Street Journal.
Rayyan Al-Shawaf reviewed The Great Offshore Grounds by Vanessa Veselka for The Boston Globe.
Lydia Pyne reviewed Digging Up Armageddon: The Search for the Lost City of Solomon by Eric Cline for the Los Angeles Review of Books.
Hamilton Cain reviewed Ali Smith's Summer for the Star Tribune.
Kathleen Rooney wrote about Alice Duer Miller's Are Women People? for the Los Angeles Review of Books.
Chuck Twardy reviewed Michael Kagan's The Battle to Stay in America for Desert Companion magazine from KNPR Las Vegas.
Erika Dreifus spotlights 10 forthcoming Jewish books, including NBCC member Adam Kirsch's The Blessing and the Curse: The Jewish People and Their Books in the Twentieth Century, which will be out in October from Norton.
Oline H. Cogdill reviewed These Women by Ivy Pochado, Dead West by Matt Goldman, Squeeze Me by Carl Hiaasen, and The First To Lie by Hank Phillippi Ryan for the Sun Sentinel; the reviews also ran in other publications.
Hélène Cardona's review of Andrés Neuman's Fracture was published in English and
Spanish in Latin American Literature Today.
Sarah McCraw Crow reviewed Yiyun Li's Must I Go for BookPage.
W. Scott Olsen reviewed Magnum Artists: When Great Photographers Meet Great Artists for Frames Magazine.
Sandy McIntosh wrote about the year that Trump went astray for the New York Daily News.
Dana Wilde reviewed Mira Ptacin's The In-Betweens: The Spiritualists, Mediums, and Legends of Camp Etna in his "Off Radar" column for the Central Maine newspapers.
Robert Allen Papinchak reviewed Maggie O'Farrell's Hamnet for the Washington Independent Review of Books.
Grant Faulkner wrote about 13 ways of looking at flash fiction for Literary Hub.
Rebecca Morgan Frank reviewed Marianne Chan's All Heathens for the Los Angeles Review of Books.
Kevin Blankinship reviewed The Best Accounts of the Classes of Physicians, a 13th-century Syrian history of medicine, for Al-Jumhuriya English.
Member Interviews
S. Kirk Walsh interviewed Margot Livesey for Ploughshares.
NBCC board member and Interabang Books owner Lori Feathers interviewed poet and former NBCC board member Tess Taylor and also novelist Tiffany McDaniel about her new book, Betty, for Interabang Books' "Chats" series.
W. Scott Olsen interviewed Joel Meyerowitz, Gary Beeber, and Michael Jantzen for FRAMES Magazine.
Member News, Etc.
Jim Ruland co-authored Do What You Want: The Story of Bad Religion with Southern California punk rock legends Bad Religion. Jim and lead singer Greg Graffin discussed the writing of the book in an interview with Entertainment Weekly.
Ellen Wayland-Smith's new book, The Angel in the Marketplace: Jean Wade Rindlaub and the Selling of America, is coming out from the University of Chicago Press on Sept. 2. It's an in-depth look at one of Madison Avenue's top mid-century adwomen. Rindlaub sold cakes, silverware, bananas, and even Dwight D. Eisenhower to American housewives, and this deep dive into her life and times helps us understand how the advertising industry mobilized conservative gender roles in defense of a Christian corporate order from 1930-1960. Ellen is giving a Zoom talk on September 15 hosted by the University of Chicago Press, in conversation with American historian Michelle Nickerson.
Hélène Cardona's poem "Ex Tempore," from her collection Life in Suspension, was read by Neil Aitken on the new episode of Hermit Poetry. Hélène's translations from The Abduction by Maram Al-Masri, along with her original work, were published in Live Encounters, and her poem "My Mother Ceridwen" was published in The Guild Of Mythographers.
W. Scott Olsen's essay "On Measuring Time" appears in the current issue of Crazyhorse.
Finally, former NBCC board member Steve Weinberg sends us this really great look back at his life in the book reviewing business: "For nine years, I served on the NBCC board, with the first non-consecutive term starting in 1992. I began publishing book reviews professionally in 1969, at age 21. During the pandemic, I've been winnowing my hard-copy files of newspaper/magazine feature stories, plus all 3,000 or so book reviews. Of those 3,000, I published 516 advance reviews in Kirkus, plus 74 in Publishers Weekly. Of the bylined reviews, 374 appeared in the St. Louis Post-Dispatch, 108 in The Seattle Times, 64 in the San Francisco Chronicle, 41 in USA Today, 13 in The Washington Post, 1 in The New York Times, etc. I'm fortunate to have read all those books, share my thoughts, and get paid, too."
Photo by Saundra Castaneda via Flickr / CC BY 2.0.
SEND US YOUR STUFF: NBCC members: Send us your stuff! Your work may be highlighted in this roundup; please send links to new reviews, features and other literary pieces, or tell us about awards, honors or new and forthcoming books, by dropping a line to NBCCcritics@gmail.com. Be sure to include the link to your work.