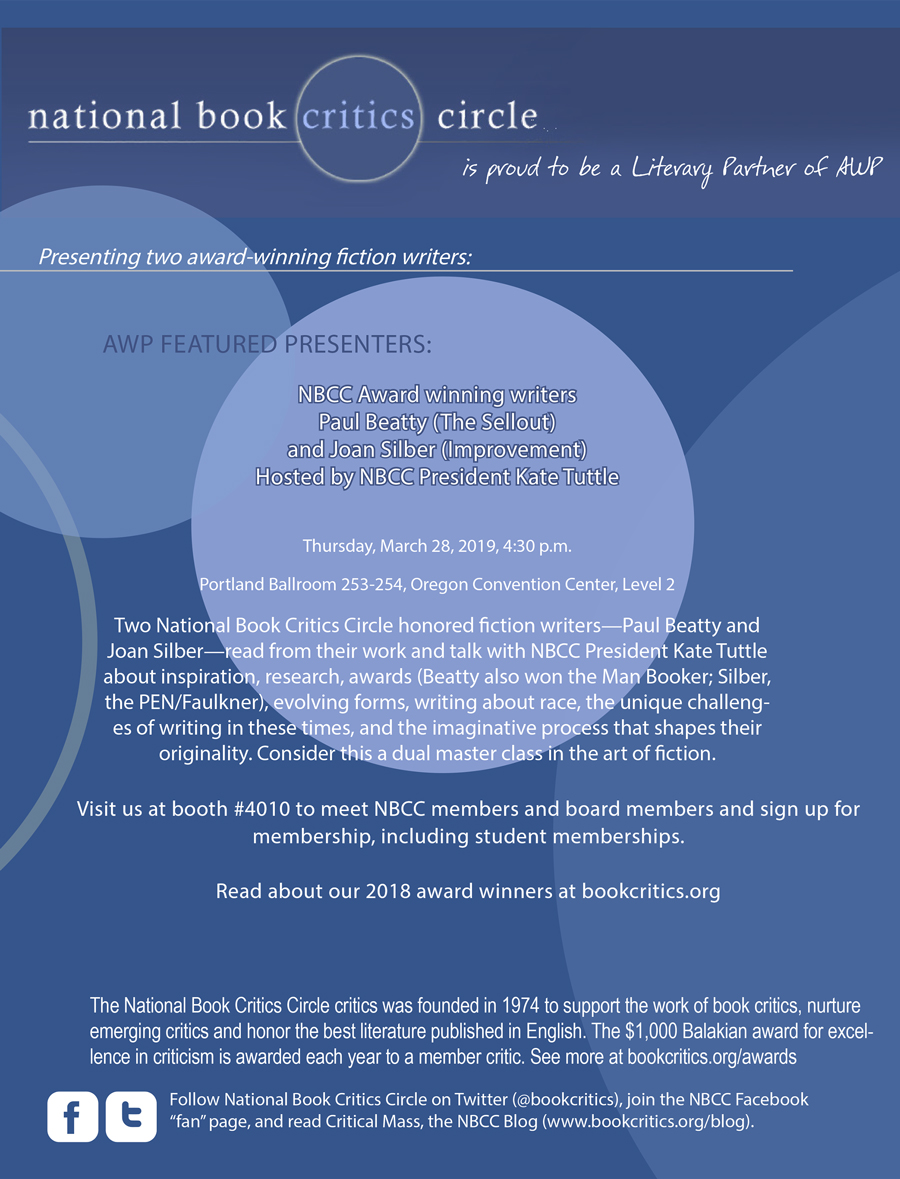 NBCC News
SAVE THE DATE: This year's annual National Book Critics Circle membership meeting will be on Thursday, March 14, from 10 a.m. to noon at The New School. That's the day of the awards ceremony. All members are welcome. Membership meeting at 10 a.m., with coffee and bagels provided. At 11, we'll have a panel titled "The Stephen King Solution; Could It Work Elsewhere?" moderated by Carlin Romano. The membership meeting ends at noon, and the board begins awards consideration and voting at 12:30.
Join us also for the Finalists' reading on Wednesday, March 13, also at the New School, the awards ceremony on March 14, and the gala awards after-party, celebrating books and our finalists. Tickets $50 for members in advance.
The 31 Books in 30 Days series begins week 2 today. Read it here.
SAVE THE DATE: The National Book Critics Circle is an AWP literary partner. Come see our featured reading at AWP2019 in Portland on Thursday, March 28, and 4:30 p.m., with NBCC (and Booker) Fiction Award winner Paul Beatty and NBCC (and PEN/Faulkner) Fiction Award winner Joan Silber, conversation with NBCC president Kate Tuttle. And come see us at Bookfair Booth #4010.
Reviews and Interviews
NBCC board member and autobiography chair Laurie Hertzel was interviewed by the British journal Five Books about the short list for the NBCC prize for autobiography.
Over at Words Without Borders the latest installment of NBCC board member Lori Feathers' regular column "Best of the B-Sides" is entitled "Death by Fixation," a look at four translated works in which a fixation with death overwhelms daily existence. Feathers also launched a new Lit Hub series, "In Context" with an exploration of the four novels of author Marlon James. James has been an NBCC fiction finalist twice, for "The Book of Night Women" and his Booker-award winning "A Brief History of Seven Killings." Former NBCC board member Colette Bancroft reviewed ' "Black Leopard, Red Wolf," for the Tampa Bay Times; Mike Berry's review of "Black Leopard, Red Wolf" appeared in the San Francisco Chronicle.
NBCC board member Victoria Chang interviewed poet G.C. Waldrep for Ron Slate's On the Seawall.
For her weekly Lit Hub.Book Marks column, NBCC VP/Online Jane Ciabattari's interviewed Yiyun Li, whose new novel, "Where Reasons End," is based on the suicide of her 16 year old son, about five novels about children who awed her, including work by Beryl Bainbridge, Ivy Compton-Burnett and William Trevor.
Former NBCC board member and Balakian winner Ron Charles posted an episode of The Totally Hip Video Book Review about Elizabeth McCracken's novel "Bowlaway" in the Washington Post, where he is a book critic. Michelle Newby Lancaster also reviewed "Bowlaway," for Lone Star Literary Life. And Priscilla Gilman reviewed "Bowlaway" for the Boston Globe.
NBCC Emerging Critic Zack Graham's Epiphany Magazine column this month is about the poem "You, Very Young in New York" by the Hannah Sullivan. Sullivan recently won the T.S. Eliot prize for her debut poetry collection Three Poems, published by Faber & Faber in 2018.
Meg Waite Clayton's monthly "Listening In" for the San Francisco Chronicle reviews the audiobooks of Benjamin Dreyer's Dreyer's "English,"Terry Gamble's "The Eulogist," and Juliet Lapidos's "Talent."
At Smithsonian, Tobias Carroll talked with Nicole C. Kirk about her recent book on John Wanamaker's legacy. And at Lit Hub, he discussed recent fictional takes on extremism.
Brian Haman reviewed Jun Yang's "The Monograph Project" in ArtAsiaPacific.
Shoba Viswanathan interviewed Jasmin Darznik, author of 'Song of a Captive Bird,' for Bloom.
NBCC member Karl Wolff reviewed "The Combinations" by Louis Armand.
Joe Peschel reviewed Ross Barkan's first novel, "Demolition Night," in The Brooklyn Rail.
NBCC members note: Your reviews seed this roundup; please send items, including news about your new publications and recent honors, to NBCCCritics@gmail.com. With reviews, please include title of book and author, as well as name of publication. Make sure to send links that do not require a subscription or username and password.​ We love dedicated URLs. We do not love hyperlinks.