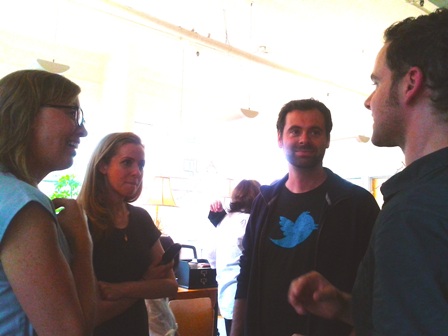 For Vice President/Online Jane Ciabattari's Lit Hub column, Francine Prose offers five classics to read and re-read (think Middlemarch, Bolano).
Minneapolis Star Tribune readers reacted strongly to board member Laurie Hertzel's column about the renaming of the Laura Ingalls Wilder award, so she wrote a follow-up column with their thoughts. She also reviewed the stunning memoir, "The Girl Who Smiled Beads," by Clemantine Wamariya and Elizabeth Weil.
Balakian award winning critic Carlos Lozada writes about Truth, including Michiko Kakutani's "The Death of Truth," Simon Blackburn's "On Truth," and more, in the Washington Post.
Lanie Tankard reviewed Laura Esther Wolfson's debut book of essays, "For Single Mothers Working as Train Conductors," in the July issue of the Woven Tale Press.
Former board member David Biespiel sits down with John Hoppenthaler for an interview at Connotation Press: An Online Artifact to discuss his forthcoming book, "Republic Cafe," book reviewing, political poetry, and more. He also reviews a selection of new books in American Poetry Review, including books by Li-Young Lee, Ange Mlinko, David St. John, David Baker, and Tarfia Faizullah.
Anita Felicelli's essay, "Elsie Piddock Skips in Her Sleep," was published in Romper as part of its "This Book Belongs To" series.
Steve Donoghue reviewed Stuart Kells' "The Library: Catalogue of Wonders" Frederic Wehrey's "The Burning Shores," both for the National.
Former NBCC board member Eric Liebetrau reviewed Alissa Quart's "Squeezed" for the Boston Globe.
In her Second Acts column for the Los Angeles Review of Books, Lisa R. Spaar takes a second look at books by Charles Simic and Jacob Shores-Arguello.
Former board member Mark Athitakis reviewed Ottessa Moshfegh's novel "My Year of Rest and Relaxation" for the Minneapolis Star-Tribune.
Hamilton Cain reviewed Ashleigh Young's collection of essays, "Can You Tolerate This?" for the Minneapolis Star Tribune.
Joan Frank reviewed Rachel Cusk's "Kudos" for the San Francisco Chronicle.
Katharine Coldiron reviewed "New Poets of Native Nations," edited by Heid E. Erdrich, for Sinkhole.
Roxana Robinson reviewed "The Language of Kindness" by Christie Watson for the New York Times.
Your reviews seed this roundup; please send items, including new about your new publications and recent honors, to NBCCCritics@gmail.com. Please no hyperlinks, just URLs. Please no italics, just plain roman type (even if it breaks your heart. Go ahead and use the Oxford comma, if that helps). Make sure to send links that do not require a subscription or username and password.