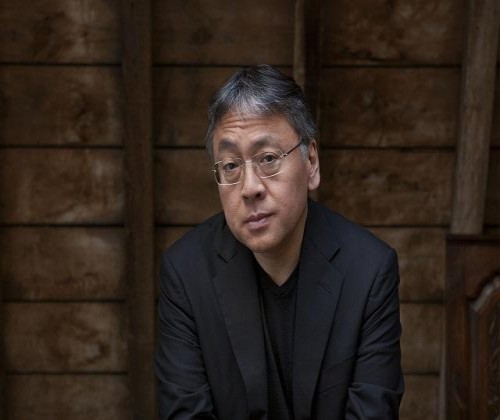 Reviews and other news:
The Nobel Prize in Literature goes to Kazuo Ishiguro, whose 2005 novel
Never Let Me Go" was an NBCC finalist in fiction.
NBCC board member and former president Tom Beer wrote about new books from Ta'Nehisi Coates, Dan Brown and Jeffrey Eugenides for Newsday and offers some insight into book reviewing for Lit Hub's new "Secrets of the Book Critics" series.
NBCC VP/Online Jane Ciabattari interviewed the co-founders of Litquake, a San Francisco Literary Institution. Her BBC Culture column features NBCC fiction award honoree Jennifer Egan & multiple NBCC fiction finalist Jeffrey Eugenides.
NBCC board member Anjali Enjeti reviewed "Nasty Women: Feminism, Resistance and Revolution in Trump's America" edited by Samhita Mukhopadhyay and Kate Harding for Rewire News.
NBCC board member and VP/Secretary Mary Ann Gwynn reviewed Masha Gessen's "The Future Is History: How Totalitarianism Reclaimed Russia," recently named a National Book Award finalist, for Newsday.
Steven G. Kellman, former NBCC board member and Balakian recipient, reviewed Roger D. Hodge's "Texas Blood" for the Texas Observer.
Former NBCC board member Steve Paul is the author of "Hemingway at Eighteen: The Pivotal Year That Launched an American Legend," published in October by Chicago Review Press. In 2016 he retired from The Kansas City Star after a career of more than 40 years, including long stretches as book review editor and arts editor.
Katha Pollitt, who was honored with an NBCC award for "Antarctic Traveller," writes about Hugh Hefner for her column in The Nation.
Longtime NBCC member Jonah Raskin published a new noir murder mystery set in Sonoma, California, titled "Dark Land, Dark Mirror" and published by McCaa Books.
DeWitt Henry reviewed Margot Livesy's "The Hidden Machinery: Essays on Writing" and Beth Ann Fennelly's "Heating and Cooling" for The Woven Tale Press.
Clea Simon's latest mystery, "World Enough," will be published in the US by Severn House on Nov. 1. Kirkus Reviews called it "a fascinating reminiscence of sex, drugs, and rock and roll," and Publishers Weekly called it "an intriguing series launch," adding "readers with a taste for noir are sure to want to see more."
Olga Zilberbourg reviewed "Knots" by Gunnhild Øyehaug, translated from Norwegian by Kari Dickson for The Common.
Jim Ruland reviewed Elizabeth Hand's "Fire" from PM Press' Outspoken Author series for San Diego CityBeat.
Robert Allen Papinchak reviewed Salman Rushdie's "Golden House," Jennifer Egan's "Manhattan Beach," and Bill Goldstein's "The World Broke In Two: Virginia Woolf, T.S. Eliot, D.H. Lawrence, E.M. Forster and the Year That Changed Literature" for the National Book Review.
Heller McAlphin reviewed Jeffrey Eugenides' "Fresh Complaint" for NPR.
Maureen Corrigan reviewed Jon McGregor's "Reservoir 13" for the Washington Post.
Michael Lindgren wrote about Jennifer L. Liebermann's "Power Lines: Electricity in American Life and Letters, 1882-1952" for Empty Mirror Books.
Former NBCC board member David Haglund wrote about Kazuo Ishiguro's 2017 Nobel Prize in Literature for The New Yorker.
Hamilton Cain reviewed Nathan Englander's "Dinner at the Center of the Earth" in the October issue of O, the Oprah Magazine and reviewed Bolivian writer Rodrigo Hasbún's "Affections" for the New York Journal of Books.
David Nilsen interviewed Carmen Machado about her debut novel, "Her Body and Other Parties" for The Millions.
NBCC members note: Your reviews seed this roundup; please send items, including news about your new publications and recent honors, to NBCCCritics@gmail.com. With reviews, please include title of book and author, as well as name of publication. Make sure to send links that do not require a subscription or username and password.​ We love dedicated URLs. We do not love hyperlinks.