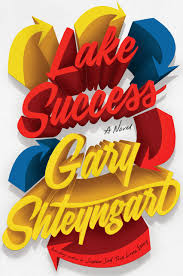 Reception for Michel Chabon's Moonglow have been glowing. Heller McAlpin reviews the novel for NPR. She also reviews Zadie Smith's Swing Time for the San Francisco Chronicle. Ellen Akins reviews Chabon's novel for the Minneapolis Star Tribune. Michael Magras reviews Moonglow for the Houston Chronicle also writes about Amateurs by Dylan Hicks for the Kenyon Review Online.
Ann Fabian reviews Black Elk: the Life of an American Visionary by Joe Jackson for The National Book Review.
Joseph A. Esposito reviews Alexandra Zapruder's Twenty-Six Seconds: A Personal History of the Zapruder Film in The Washington Independent Review of Books.
Jim Ruland reviews The Haunted Looking Glass, an anthology of ghost stories selected by Edward Gorey, for his column "The Floating Library" in San Diego CityBeat.
Renee K. Nicholson's essay "Out of the Woods: Appalachia, Literature, and the American Dream" appears in Electric Literature.
In Harper's magazine, Daniel Asa Rose tracks down five kids who were born with him in Brooklyn Jewish Hospital on November 20, 1949 to highlight a cross-section of "The Luckiest Generation" and interviews Billy Collins for The New York Observer.
Andrew Erwin reviews Loren Eiseley's Collected Essays in the Philadelphia Inquirer.
Karl Wolff reviews IRL by Tommy Pico at the New York Journal of Books and Disinheritance by John Sibley Williams for The Driftless Area Review and continues his essay series, "American Odd," with an essay on Henry Darger: Selected Art and Writings, by Michael Bonesteel at the Chicago Center for Literature and Photography:
Congratulations to NBCC Board member and Balakian Committee chair Gregg Barrios who was honored with a solo event at the Texas Book Festival in Austin, and was festival's first playwright to be distinguished this way.
Your reviews seed this roundup; please send items, including new about your new publications and recent honors, to NBCCCritics@gmail.com. Make sure to send links that do not require a subscription or username and password. Please send dedicated URLs rather than hotlinks, and include the title and author of the book, as well as the name of the publication.