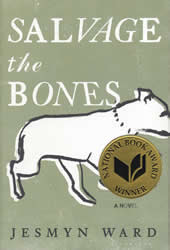 Last Wednesday the winners of the National Book Awards were announced. (Carmela Ciuraru covered the festivities and took plenty of pictures for Electric Literature's blog, The Outlet.) The fiction winner was Jesmyn Ward's novel Salvage the Bones, which the Washington Post's Ron Charles praised as "trim, fiercely poetic." In the Atlanta Journal-Constitution, Gina Webb calls it a "timeless tale of a family that regains its humanity in the face of incalculable loss."
The nonfiction winner was Stephen Greenblatt's The Swerve: How the World Became Modern. NBCC biography winner Sarah Bakewell reviewed The Swerve for the New York Times Book Review, noting that it reflected Greenblatt's "hardheaded investigations of historical context with a profound feeling for the way writers somehow pull free from time, to enter the minds of readers."
Nikky Finney won in poetry for her collection Head Off & Split. She discussed her work with the Oxford American last April.
Thanhha Lai's Inside Out and Back Again took the prize in young people's literature. Kirkus Reviews (one of four prepub review outlets that gave it a starred review) called it an "enlightening, poignant, and unexpectedly funny novel in verse."
Reviews and interviews from elsewhere:
John Domini reviews Paolo Sorrentino's novel Everybody's Right for Bookforum.
Michael Hastings has reviews of new books by Anis Shivani, Daniel Woodrell, and Jim Harrison at the Industrial Worker Book Review, where Eric Miles Williamson also contributes a column.
Maureen Corrigan reviews Hugh Nissenson's novel The Pilgrim for NPR.org.
Rayyan Al-Shawaf reviews Howard Jacobson's 1998 novel No More Mr. Nice Guy, newly published in the United States, for Truthdig.
Michael O'Donnell reviews Kevin McMahon's history Nixon's Court for the Barnes & Noble Review.
Dawn Raffel reviews Ann Beattie's hybrid of fiction, criticism, and memoir, Mrs. Nixon: A Novelist Imagines a Life, for the San Francisco Chronicle; Carolyn Kellogg does the same for the Los Angeles Times.
Mary Ann Gwinn talks with Michael Dirda about his new book, On Conan Doyle, at the Seattle Times.
Your reviews and recommendations help seed these roundups: If you're an NBCC member with a review you'd like considered for inclusion, please email nbcccritics@gmail.com. You can also get our attention by using the Twitter hashtag #nbcc, posting on the wall of our Facebook page, or joining our members-only LinkedIn group.